Is Your Boardroom Presentation-Ready?
Categories: AGC News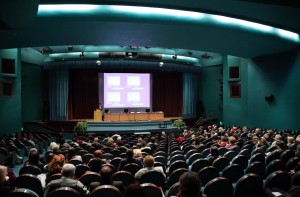 5 Steps to Ensure Your Next Boardroom Meeting is Pitch-Perfect!
1)    Are you Compatible? Connecting an Apple or IBM laptop to a television or projector is crucial in today's boardroom presentation. Most computers now days have HDMI & Display Ports but some older models only offer a VGA video connection.
Make sure that all types of computers & tablets will effortlessly connect to the boardroom audio/video system. Having to call in the IT guy to fix a technical issue can be irritating to the future client and make you look underprepared and unprofessional.
2)    Up to Size – Bigger is better, having a display that is too small for your boardroom can make your presentation fail before you even begin. Content is king and if your clients can't see the words or charts that are being displayed on the screen all efforts were futile. The Screen size should be large enough to be seen from every seat in the room and content to be legible from the furthest seat in the room. The industry standard for viewing distance is 1.5x the screen width. So for an 80" display you would want the furthest seat to be at 120" (10 feet) away. Sharp's 90" AQUOS 1080p LED Display dazzles with advanced pixel structure for the most breathtaking HD images, a great addition to any boardroom looking to add "wow" factor.
3)    Getting the Full Picture – Video scaling is changing the size of a video frame in order to match the native resolution of a TV or computer screen. This can be very important in being able to see the full screen of the connected laptop to the boardroom display. You will want to make sure that there are no cut off portions of the screen and that the proper image is being displayed. It is ideal to have a Video Scaler in the boardroom audio video system to effortlessly adjust and make corrections to any compatibility issues that may arise from connecting various laptops.
4)    Take Control – Having complete control of the Boardroom System is key to having your presentation run smoothly. Controlling display devices, changing inputs, dimming lights & controlling electronic shades are all possible with today's modern control systems. Elegant table or wall mounted touch screens offer complete control of boardrooms technology features. With simple and easy to use touch screen interface there is no training required to command a high tech boardroom with the utmost confidence.
5)     Up in the Air –Tablets and Phablets (phones with 5"+ displays) are being utilized for business more than ever before and are now finding their way into high tech boardrooms. With cloud storage connecting your information and making it accessible to any device connected to the cloud, using a Samsung tablet is becoming the preferred technology due to the compact size and computing power. Being ready to adapt to this growing trend will make your boardroom standout and help you stay ahead of the curve. This can be achieved by adding a wireless component (Crestron's Air Media) to your boardroom system that will allow presentations to be streamed onto the display from any connected tablet. Air media is the future and setting the trend is better than trying to catch up.